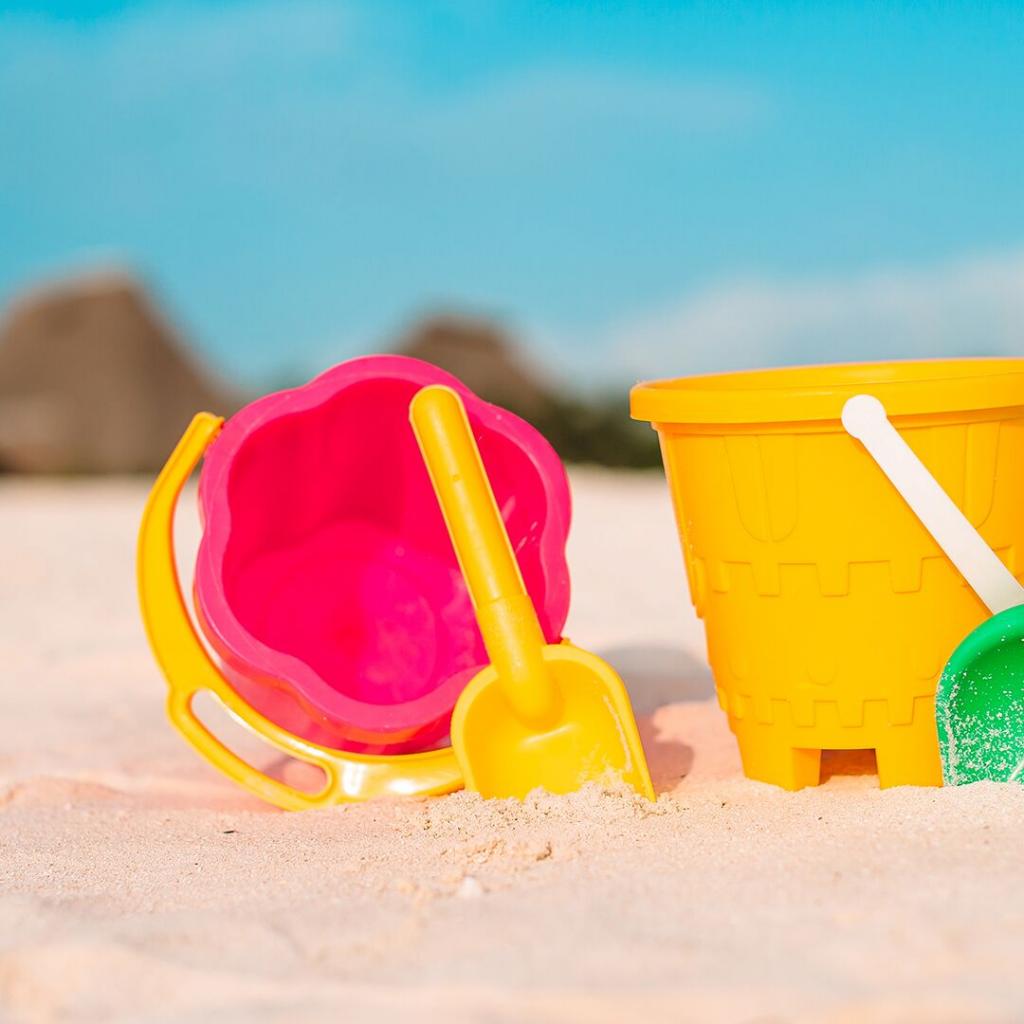 Your Family Guide to spending Time on the Beach
Are you thinking about a summer's day on the beach?
Echoes of summer songs resound in your ears, saying words like 'Summertime and the living is easy, fish are jumping and the cotton is high!' Then the whole idea of a day on the beach
sounds like an exciting proposition. However, with a family in tow, it is not a simple exercise and careful planning is the key to success.

Here are three basic categories to consider when going on a beach outing with children.

You need to pack beach necessities, have safety plans, and think of some beach activities.
Then you can say One, two three we are off to see the sea!

1. Pack beach necessities.
When you start out with your beach outings, it is a good idea to have a list of what you plan to take and check off the items as you pack your bags and picnic basket. Keep an ongoing list and add to it as you realise what your different needs are.

Here are a few suggestions of what most families find are the basic essentials to a happy day out on the beach.

A beach bag.
A beach bag is essential and it needs to be big enough to carry multiple things. A waterproof and weatherproof bag with pockets for wet, dry, and sandy items will help keep you organized.

Beach necessities.
Beach towels and a beach blanket are the essentials for comfort on the beach. Deck chairs for everyone and a beach umbrella make your picnic site comfortable. Never go to the beach without plenty of sunscreens and a first aid kit. Swim goggles, hats, sunglasses, and beach toys. If you have a long way to walk, a beach cart would be helpful to carry everything down to the spot you choose.

A potty seat.
A travel potty seat or portable potty is a real bonus if you are out for a long day and you are not sure of restroom facilities. If your toddler is in the middle of potty training, a comfortable toilet experience is a great way to continue your training program with ease. A portable potty will fit into the back of your car for convenience. Don't forget the change of clothing for accidents, wipes, and toilet paper, too. Depending on the age of your child, a swim diaper may come in handy.

Protection from sun and wind.
Sunblock is essential and regular application important. When you are on the beach shelter from the sun's rays or the wind that may pick up out of the blue is a good addition to your picnic kit. There are amazing mini igloo-type tents to provide shelter during the day. These shelters are very useful if your child wants to have a midday nap and you want to stay on the beach.

Beach toys.
Beach toys are essential, but you can stick to the traditional bucket and spade collection with other containers to play in the sand. Making sand castles is such fun for the whole family. Add in items your child can use to scoop and play with sand and water. You could use plastic cups, large spoons, a funnel, and even a watering can. Plastic figurines of people and animals make great additions to the sand castles. A good suggestion is to keep all the favourite beach toys in their own
special bag ready for the day at the beach any time.

Picnic style treats.
Finger food is the best suggestion for the beach. Keep some healthy snacks available, like fruit and individually wrapped items. Avoid things that will be spoiled by sand. 'Sand' - wiches are not enjoyable. A good suggestion is to pack individual plastic containers with little divisions like school lunch boxes. Everyone can have their own box with their favourite snacks inside.

Bring along a cooler box or bag to hold your snacks and some cold drinks and water. Staying hydrated is a very important part of any outdoor activity. Try to avoid unhealthy snacks and drinks from the beach cafés. Ice cream could be a special
treat at the end of the picnic day out.

2. Safety plans.
The golden rule of the beach is probably to always keep an eye on your children. Do not allow them to wander around the beach unsupervised. Set some boundaries of how deep
they can swim and what you expect at the beach depending on their age and proficiency in the water.
Bare these tips in mind for extra safety and to ensure happy holiday memories.

Life vests add safety for little ones.
Choosing a really reliable life vest will give you peace of mind and protection for your child. Choose one that is not going to deflate or pop and be a danger rather than a help. Whenever children are around the ocean, pool, lake, or another large water source, make sure they're wearing life vests that fit properly.

An infant/child CPR class is a good safety skill.
In an emergency situation, knowing how to administer CPR to a child could make a life-changing difference. Taking a class can give you the tools and knowledge you need to step in and provide emergency care in the event of a swimming accident.
Stay close to your toddler and be observant.
The ocean can be unpredictable. Strong undertows and rip currents and big waves can appear suddenly and sweep little paddlers off their feet.

Keep your mobile phone on hand.
Having modern technology available for emergency situations is a great advantage.
Make sure your phone is charged and ready for use in an emergency.

Think about swim lessons.
Encourage your child to have swim lessons. Water safety and respect for the water are important values for children to have.

Look for a beach with life guards.
Life guards are trained to watch out for changes in the currents and children who may be in danger. A beach with lifeguards and safety-demarcated areas is very reassuring.
It is a good idea to know the signs of drowning and be ready to call a lifeguard or step in yourself. Drowning can go unobserved. Unlike the movies, it is not always an arm thrashing shouted-out event.

Teach your family the four golden rules of water safety.
1. Always go near to water with an adult.
2. If you are at a swimming pool, do not run around the edge of the pool.
3. Don't push or dunk other children under the water.
4. Jump feet first into the water.

3. Beach Activities.
The sand and the sea are the big attractions of a beach holiday. Centre your activities around the fun experience on the beach.

Make sandcastles
Sculpture the sand
Collect sea shells and smooth pebbles
Make tracks for cars and ponds for boats
Play ball or throw a Frisbee
There are so many lovely things to do on the beach. If you are well prepared, it will be an awesome day out.

FINAL TIP OF THE DAY:
Be prepared and get ready the day before. Pack the car the night before to ensure you can leave early in the morning. This kind of preparation will ensure you have a wonderful family day on the beach.